The NeverEnding Story , 1984
Welcome back to another exciting episode of Saturday Night Movie Sleepovers! This week J. Blake and Dion Baia are celebrating their 50th podcast (well, sort of) and what better way than to tackle a movie that has become an absolute classic in the annals of 80's fantasy films. In the crosshairs this week is the sleepover classic, The NeverEnding Story, from 1984.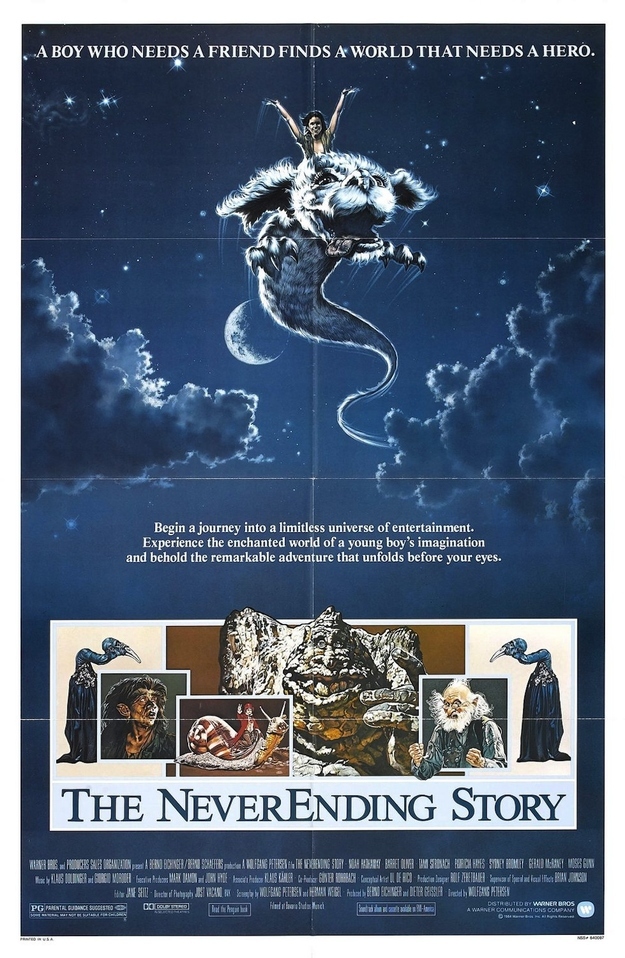 Dion and Blake jump head-on into this very nuanced, multi-layered adventure, trying to psycho-analyze this "children's movie", which has themes and metaphors textured within that one wouldn't really think would be included in what was again purported to be a "children's film" ; but heck, this was the 80s! Regardless the boys delve right in, discussing the original novel and the differences from page to screen, that eventually made author Michael Ende take his name off the feature film. They also speak about German Cinema in general, and as this was the product of West Germany, NeverEnding Story became the biggest film outside of the United States and the U.S.S.R. upon release. The fellas also chat about the blossoming technology of 'green-screening', and the major differences between practical effects (which were utilized in this production), versus the upcoming CGI revolution which was literally around the corner. So to the big question: how does the film hold up today? AND, is it as messed up as we all remember? What was the German's plan to make sure this was a hit with International audiences? What role did Steven Spielberg have in the film's production? And what surprising element was NOT in the original German cut, which actually became one of the most enduring aspects of the English-speaking version? Well grab your popcorn and soda, sit back and put your feet up and come celebrate with Blake and Dion as they answer all your questions, and unveil the 50 edition of Saturday Night Movie Sleepovers!
EXTRAS:
Here's the original International theatrical trailer for the film!
Have a look at the original German Trailer!
Check out the Music video by Limahl for NeverEnding Story.
Mentioned in the cast, take a look at this rare 1984 German Documentary on the film!
Here's a very interesting featurette discussing some people's interpretations of all the esoteric allegorical spiritual symbolism within the film, courtesy of ODDTV.
Finally, have a listen of the entire audio book of Michael Ende's The NeverEnding Story.
Podcast: Play in new window | Download
Subscribe: Apple Podcasts | RSS