The Last Starfighter, 1984
To close out the long and hot summer, J. Blake and Dion Baia have embarked on a journey that will take them out of the trailer park canyons of California and up into the galaxy to help defend the cosmos against horrifying alien evildoers who are hell-bent on, well… doing whatever they plan to do- and the key to this adventure is provided to us by one cleverly disguised, humble arcade game console. Yes, we are talking about the highly-underated 1984 film The Last Starfighter, directed by Nick Castle.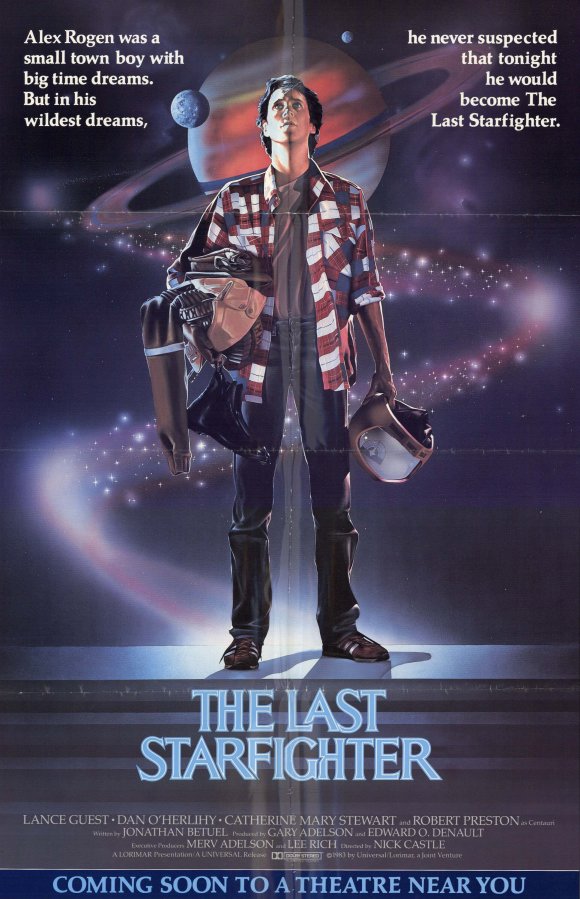 Yes Joystick Jockeys, this cult classic is hailed as the first film to showcase CGI Imagery to replace the tradition Stop-Motion and Practically Special Effects, and is sometimes forgotten for that milestone. But how does a space film in a post-Star Wars world stand out without ultimately being compared to the property that set the bar? The boys reminisce about the era of the late 1970's and 80's when one actually had to go out of their house and travel to a local arcade or restaurant if they wanted to socialize while gaming, and/or see the latest and greatest in video game technology vis-à-vis the big console units. Has time and the public been fair to this ground-breaking film? Can this movie actually be considered as influential as Star Wars in certain circles? And what's this film's 3-way connection to John Carpenter? And does Blake's Lance Guest story really involve a late-night encounter in the adult section of a 24-hour New York City store? Well we're not pulling any punches on this all new edition of Saturday Night Movie Sleepovers! Inter-stellar!!
(Check out the site for the Kenner Star Wars toys documentary discussed in this podcast entitled, Plastic Galaxy: The Story of Star Wars Toys.)
(Here's the link to Super Mario: How Nintendo Conquered America, the great book that discusses the history of game consoles; the success of Mario starting from the failed arcade console Radar Scope which was then converted into the legendary Donkey Kong,  leading to the rise of Nintendo and the legacy we are all familiar with today.)
(Have a look at composer Craig Safan conduct a performance of The Last Starfighter Suite, live!)
(The name of the Cleveland Restaurant that had VHS tapes to watch behind the bar was The Greenhouse Tavern)
(And on a COMPLETELY unrelated note, here is Dion meeting to man, the myth, the legend- Mr. Ron Jeremy)
Podcast: Play in new window | Download
Subscribe: Apple Podcasts | RSS