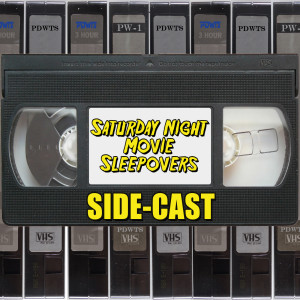 A brand new addition to the Saturday Night Movie Sleepovers rotation is the Podcast that started it all, Dion and Blake's Side-Cast. Originally airing on the sister site Podwits.com, the Side-Cast was the catalyst for what became SNMS. To showcase where it all began we are reissuing this series, highlighting the anthology podcast that covered a variety of topics, so they can breath a second life, and because eventually it will be a new off-shoot of the regular SNMS Podcast, where brand new podcast content will be generated for SNMS website.
(This podcast was originally published on July the 30th of 2014, we hope you enjoy!)
Dion and J. Blake are back for an all new, exciting episode of The Podwits' Side Cast! The topic today is the man, the myth, the legend…. Bruce Campbell; and all things Mr. Campbell! The boys get into the nitty-gritty and talk about his mainstream successes like The Evil Dead and Burn Notice, but also get into some lesser known gems like Moon Trap, Running Time and Crime Wave, and even some forget beauties like The Adventures of Brisco County Jr.and Bubba Ho-Tep. A mandatory listen for any Campbell or Raimi fan, or any Film fan for that matter!!! Come on down and have a listen!
Footnotes:
Please check out J. Blake's exclusive interview with the man himself, Bruce Campbell!
Have a listen to SNMS Podcast on Campbell's 1992 classic Mindwarp !
Podcast: Play in new window | Download
Subscribe: Apple Podcasts | RSS