–ABOUT SATURDAY SLEEPOVERS
---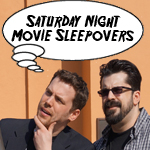 ABOUT:
Saturday Night Movie Sleepovers is a website and podcast where lovers of cinema can gather and embrace that ever-so-powerful feeling of nostalgia, as hosts Dion Baia and J. Blake highlight a sub-genre they call, "The Sleepover Classic" (definition: a movie likely to be enjoyed at a childhood sleepover).  They will tackle films from their youth that they remember fondly, forgotten gems that slipped through their fingers and, on occasion, even contemporary works that seem destined for cult classic status.  So dig out those video store membership cards, your Jiffy Pop®, and your jumbo 3-liter bottle of cola, and prepare yourself for the ever-exciting, entertaining and informative, Saturday Night Movie Sleepovers!
Follow us on: FACEBOOK
Follow us on: TWITTER
Contact us at: SATSLEEPOVERS@GMAIL.COM
Subscribe on: ITUNES
Subscribe on: STITCHER
Support us on: PATREON
BIOS:
DION BAIA – His cinema studies started at a very young age, when plopped in front of the TV, Dion was exposed to both contemporary films and the
Hollywood Golden Age alike, mixed with healthy doses of 80's action, B-movie shlock, and old school horror. By about age 8, Dion was already prepping for SaturdaySleepovers by getting his parents to allow him to host sleepovers, while sometimes testing the bounds of his mother and father's sanity by at times having 2+ friends over for a night. This is where his tutelage of what we now commonly refer to as 'binge-watching' was born; staying up all night long to watch as many movies as his folks would allow him to rent. That is until 1991 came along and the addition of a video camera to the Baia household changed everything. Dion went from watching movies to making them with his friends- be it SNL parodies or straight up homages to their favorites films of the day. He went on to study cinema at the Conservatory of Film at Purchase College where, as fate would have it, he was paired with J. Blake (who was also a film major) on day-one to be roommates. This sparked a lifelong friendship which has now rivaled in years, the age they were when they first met- Confused yet ? Dion has been in the television industry, specifically cable news on the tech-side since 2002, being the veteran of over 3 presidential election cycles. Since 2011, he has been a regular on-camera television guest, popping up oddly as comic relief and in panel formats to opine about the news of the day. He is also a seasoned podcaster, at one point cohosting 3 shows at a time. So sit back and listen to this self-stylized student of history, music, and film as he and his best bud opine about the greatest, most well-respected, and some of the hokiest movies of our time. And also, Dion's new debut novel, a 1976 crime thriller / police procedural named Blood in the Streets which is available on Amazon for preorder, releases December 4th, 2018. It will also be available in ebook formats and as an audiobook.
(Please check out Dion Baia on Friday's on Fox News Channel at 4pm on Your World, with Neil Cavuto.)
FOLLOW BLOOD IN THE STREETS ON TWITTER
FOLLOW BLOOD IN THE STREETS INSTAGRAM
---
FOLLOW BLOOD IN THE STREETS ON FACEBOOK 
FOLLOW DION ON FACEBOOK (when signed it)
LISTEN TO DION COHOST THE 2014 PODCAST, Wah-Hoo! A Sgt. Fury and his Howling Commandos Podcast.
J. BLAKE –  
Like his esteemed colleague Dion, J. Blake's love affair with the Lady Cinema began at a very young age…with one of his earliest memories being the sight of Yoda's swamp-covered planet of Dagobah projected on to the big screen.  Video stores and the films viewed at weekly mischief-filled sleepovers were a very important part of this aspiring artist's upbringing and are two of the leading factors that led to his decision to go to film school; where he met and shared a dorm room with the incomparable Dion Baia.  J. Blake's post-film school years have been filled with adventure and intrigue as he is a man that has worn and continues to wear many hats.  For several years he taught film studies courses, focusing on the horror and comedy genres, at Dion's and his Alma mater.  As a writer and film and music authority, he has had articles, interviews and reviews published by many noteworthy music and genre film-related publications, including Fangoria.com, Dreadcentral.com, Video Watchdog Magazine and MovieMaker Magazine; and he has been a featured guest of such notable podcasts as F This Movie, Wrong Reel, Filmwax Radio, Damn Fine Cast, Hellbent For Horror and others.  He has been an active member of the film and television industries as both a producer and editor since 2001 and has been a staple on New York City's music scene for almost as long.  His latest album, When You Coming Home? can be found at all major online digital music retailers and he is a 2015 NY Blues Hall of Fame inductee.  J. Blake has also written a book about horror film music titled Scored to Death: Conversations with some of Horror's Greatest Composers.
CHECK OUT J. BLAKE'S OFFICIAL WEBSITE
FOLLOW SCORED TO DEATH ON TWITTER
FOLLOW SCORED TO DEATH ON FACEBOOK
CHECK OUT J. BLAKE AT THE PODWITS
PLEASE check out DION BAIA and J. BLAKE in their other ever-continuing adventures on the SIDE-CAST PODCAST, where they participate in themed casts about movies, music, culture, and everything else under the sun. 
*"The Saturday Night Movie Sleepover Theme" was written by Stephen Hastings.