The boys are back for yet another episode of Saturday Night Movie Sleepovers! This week Dion Baia and J. Blake are again going way down the alley, back to a huge franchise that was revisited during their childhood. A property that because of other comic book characters getting reboots around the same time, this beloved hero was able to finally see a well-deserved adaptation, with some big-time Hollywood clout behind it. We are of course talking about Warren Beatty's Dick Tracy, from 1990.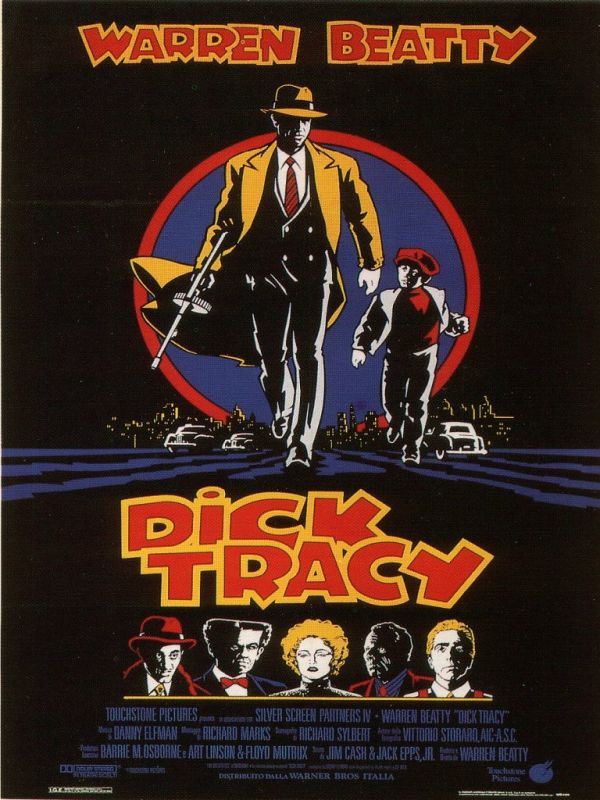 This Hollywood blockbuster is another example of a film with a huge cast of A-listers, and coming off the heels of 1989's Batman, this property (which had been in the works at the time for over 10 years), had some much-needed life breathed into a then 50+ year-old franchise. Truly being a testament to a pre-CGI world, Tracy was one of the last big-budget features which utilized the old tricks of Hollywood, like SFX, matte-painting, use of miniatures, optical printing, practical sets, practical Effects, and of course, practical make-up. And because of Disney's involvement, boy did this movie use all of the above devices to their absolute fullest, making this film truly be a proper swan-song for old Hollywood before CGI muscled it's way into the field. But why did Disney ultimately take it's name off the title? Even though this movie would not have been realized without the true diligence of Warren Beatty, was he in fact miss-casted in playing the title role of the legendary police detective? How true was this film to it's comic strip roots and creator Chester Gould's vision? Well all these questions will be answered it yet another epic edition of Saturday Night Movie Sleepovers!
*Dion misspoke when he referred to 1920's Irish Chicago gangster Dion O'Banion, as Dion O'Brien. 
EXTRAS:
Here is the 2009 TCM Leonard Maltin Dick Tracy Special which explores the history of the iconic sleuth, with Warren Beatty reprising his role as the man in yellow. And Info about the special can be found here.
Have a look at this fantastic 1990 making-of TV documentary: Dick Tracy: Behind the Badge, Behind the Scenes.
Have a gander at the evolution in Al Pacino's make up for his character, Big Boy Caprice. 
Check out this very rare 1990 Evening Magazine TV show episode that covers the Dick Tracy Premiere at Disney's MGM Studios in Orlando, along with some very rare interviews with the cast.
Look at this vintage 1990 commercial for the Dick Tracy toy line.
Check out this GREAT 1990 McDonald's commercial, promoting Dick Tracy's tied-in marketing campaign.
Talked about in the podcast, here's the indispensable 1980 book, The Celebrated Cases of Dick Tracy, 1931-1951.
Also covered in the cast, here's the HIGHLY RECOMMENDED 1990 graphic novel prequel and comic book adaptation of the feature film, called Dick Tracy: The Complete True Hearts and Tommy Guns Trilogy.
And, have a daily dose of your favorite daily comic strip, found here at GoComics.com!
Podcast: Play in new window | Download
Subscribe: Apple Podcasts | RSS