The Karate Kid, 1984
Hello and welcome back to another exciting installment of Saturday Night Movie Sleepovers! J. Blake and Dion Baia are ending the 2017 summer season with a bang, or a 'kick', as they cover a classic that introduced marital arts and specifically Karate, to an entire new generation of moviegoers. The boys are practicing their waxing, sanding and painting techniques this week as they talk about The Karate Kid, from 1984.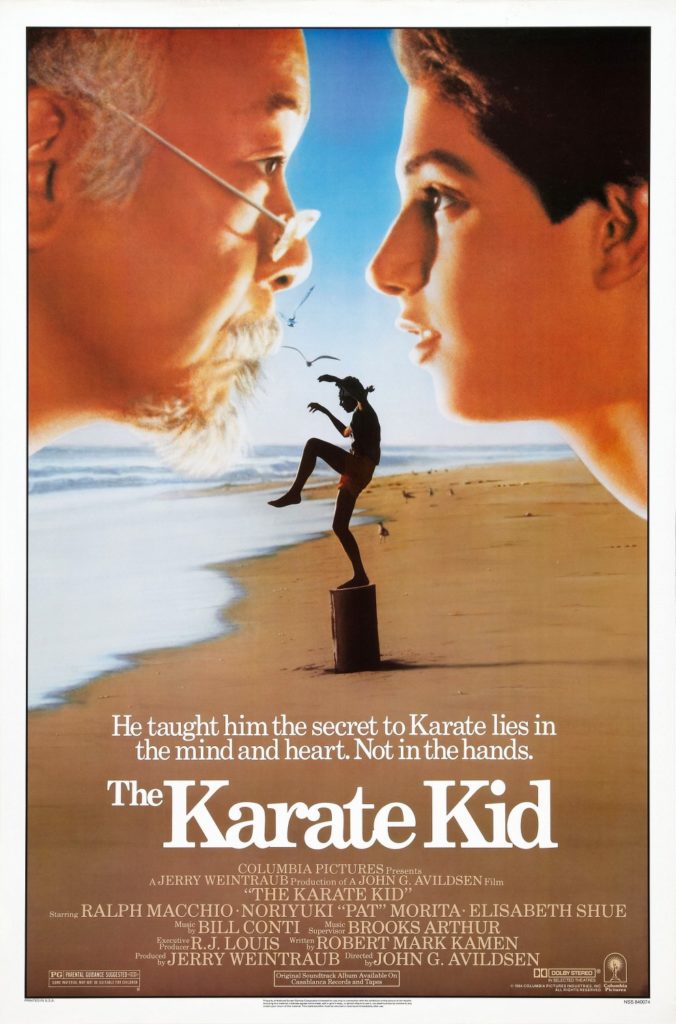 Dion and Blake jump right in as they remember their first memories of The Karate Kid and how they were originally introduced to the film. Sharing a similar story and a lot of the same themes as another sports classic of director John G. Avildsen's, the 1976 movie Rocky, the fellas explore the similitude between both movies. They discuss how amazing the entire cast of this film really was, as well as touch of their own recent interview with actor Martin Kove, who portrays the Cobra Kai dojo sensei John Kreese. They again utilize the novelization to explain some of the story elements that didn't make the final cut (like Daniel's mom was actually sacked and was in fact working as a hostess at that Chinese restaurant they were having lunch at- whaaat?!). Blake and Dion also try and set the table of the era this film was released within, a time when a term like 'karate' became almost as Americanized as 'pizza' was within the cultural lexicon of the 1980s. They also analyze this story and examine why this movie is considered a classic in the annals of sports, beach/summer, and coming-of-age films. And they dissect the disgusting phenomenon of bullying in this film, and the ugly part it sadly plays in so many people's life's, both young and old. So how was everyone trained in preparation for this project, and how did that help contribute to each actor's individual or group performance(s)? Was Chuck Norris really offered the role of Cobra Kai Sensei Kreese? And speaking of Kreese, how great is actor Martin Kove in his role, compared to the relatively short amount of screen time he ultimately has? Well you better do some arm and leg stretches, clean and bleach those Gi's, and watch out for those notorious Cobra Kai leg-swipes, because here comes another all new exciting edition of Saturday Night Movie Sleepovers!
Extras!
Please go check out SNMS' exclusive interview with Martin Kove (as well as Wilfred Brimley) when the two actors were kind enough to come sleepover some months ago!
Have a look at the original 1983 audition tape of Ralph Macchio and Elisabeth Shue!
Have a look at the original 1983 audition tape of Ralph Macchio and Pat Morita!
Check out part 1 of the original 1983 video rehearsal footage and behind the scenes for The Karate Kid !
Here is the late, great Noriyuki 'Pat' Morita discussing his role as Mr. Miyagi!
Here's Martin Kove in 2012 in England talking about The Karate Kid !
And here is the a question and argument recently submitted to the world, was Daniel in fact the real bully in The Karate Kid ?
Podcast: Play in new window | Download
Subscribe: Apple Podcasts | RSS