Welcome to a very special edition of Saturday Night Movie Sleepovers! This week actor, political commentator and professional wrestler, the incomparable Tyrus, stops by to join us for a sleepover!
After reminiscing about what it was like for a boy to grow up in the '70s '80s & '90s, Tyrus and Dion Baia chat about their love for cinema, hitting specifically on Smokey and the Bandit and Jackie Gleason, Cannonball Run, Superman Returns, and the Marvel Film Universe, among others. They discuss Godzilla, He-Man, You Can't Do That on Television, G. I. Joe, and the "latch-key" childhood era they both grew in, versus the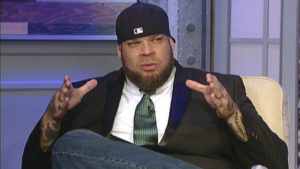 drastic differences that kids now encounter growing up in the past two decades. They get into Tyrus' background and how he went from doing security for Snoop Dogg, to becoming a WWE and Impact Wrestler, and his seguing into acting (even signing on to play Suge Knight in an upcoming Biopic), and his recent position as a cohost on The Greg Gutfeld Show on the Fox News Channel.
It's a fun, absolutely hilarious, and insightful conversation this week on an all new episode of Saturday Night Movie Sleepovers!
Podcast: Play in new window | Download
Subscribe: Apple Podcasts | RSS