Welcome back to week 3 of Saturday Night Movie Sleepovers' October Halloween Horror Movie Extravaganza! This episode finds Dion Baia and J. Blake going way down the alley, visiting the "Creature Feature" sub-genre, and tackling a film that in their opinion, exemplifies that niche of Sci-Fi/Horror films from the 1950s. And with this very week marking the 55th anniversary of the Cuban Missile Crisis, the boys discuss Hollywood's fear of the unknown in a Nuclear age with the classic film, Them!, from 1954.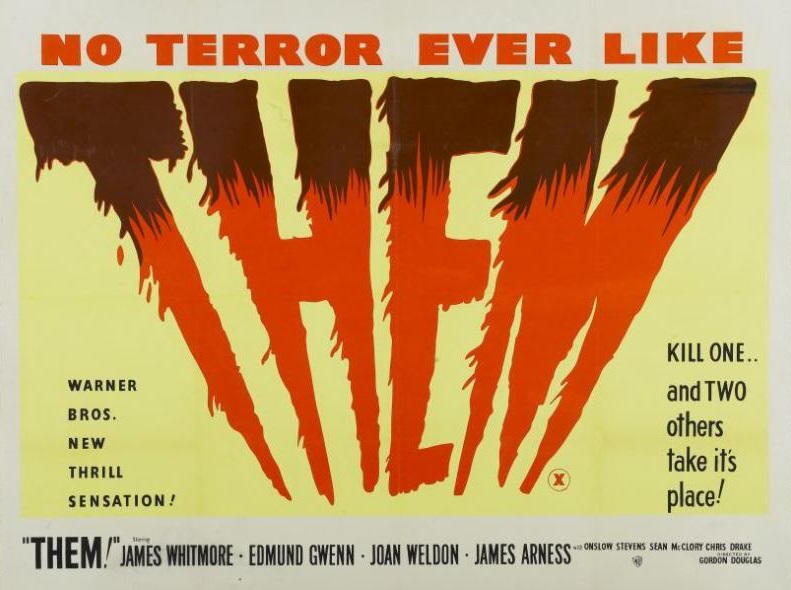 The boys setup the conversation about 1950's Sci-Fi by chatting about Dion's particular affinity and personal connection with these type of Science Fiction and Horror Films of the era. They chat about the Cold War politics of the decades that proceeded WWII, like McCarthyism or JFK vs. Khrushchev and the Cuban Missile Crisis, to try and put into some kind of perspective and context, the mindset of a postwar society who thought nuclear war was probably inevitable. Blake and Dion track the evolution of these type of "Creature Features", by analyzing Hollywood's output at the time, which it could even be argued leads the viewer down a path all the way to the iconic 1968 film Night of the Living Dead, which changed everything. The fellas then dissect this classic, Them!, which starts almost like a Crime Noir- a widely popular subgenre at the time. They go over the suspense that is set up within the movie and discuss the filmmaker's very modern and realistic approach to telling this story. They also observe how superb the entire cast is within this film- all amazing feats when one realizes how this basically is a tale about radioactive insects. So, how do the Special Effects hold up some 60+ years later? Was this film originally planned to have a very popular gimmick (at the time) employed that was scrapped at the very last minute? How many Wilhelm screams are in this movie? And what is actor Edmund Gwenn's connection to Friday the 13th? Well you better hide your sugar, make sure your city and state maps are up to date, because the guys are taking you on an adventure to find some gigantic monsters in this all new installment of their October Halloween Horror Extravaganza on Saturday Night Movie Sleepovers!
Extras!
Here is the more widely known Theatrical Poster for Them!, which kind of tips the film's hand to what the plot's 'twist' actually is.
Have a look at this rare, behind the scenes footage from Them!
Check out these awesome original Lobby Cards for Them!
As brought up in the cast, check out this article elaborating on the Urban Legend that John Wayne and the film crew from the 1956 film The Conqueror died of cancer because of A-Bomb testing, and also the 'Downwinders' who actually had to deal with the then-unknown effects of radioactive fallout.
Podcast: Play in new window | Download
Subscribe: Apple Podcasts | RSS