Welcome back to another exciting edition of Saturday Night Movie Sleepovers ! J. Blake and Dion Baia are throwing up an episode a week early to coincide with the Saint Patrick Day holiday, and to surprise and celebrate a film that's been on the boy's short-list since the inception of the SNMS podcast– the 1959 Walt Disney classic, Darby O'Gill and the Little People!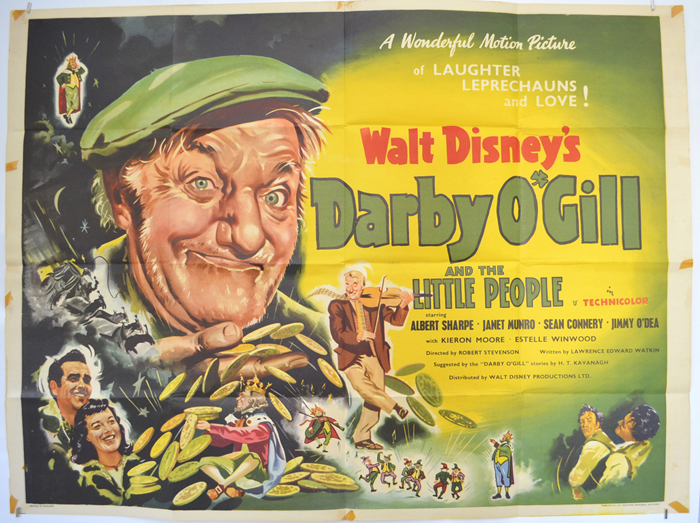 After some present giving, Dion and Blake jump right in, unpacking this epic masterpiece. They discuss the 1959 Magical World of Disney Television episode, I Captured the King of the Leprechauns, where Walt Disney and Irish actor Pat O'Brien venture to Ireland as a setup to convince King Brian Connor of the Leprechauns to star in Mr. Disney's big budget Hollywood film. This incredible marketing ploy, along with the astounding Special Effects which used a combination of matte painting and forced perceptive, came together to create one of the best fantasy movies of all time with effects that still hold up some 60+ years later. So settle in and listen to the lads take a journey to County Kerry, Ireland and visit their old mate, Darby O'Gill, on this much requested Saint Patrick's Day installment of Saturday Night Movie Sleepovers!
EXTRAS!
Recently found, check out an article about what was thought to be a lost performance of the 1957 BBC television version of Requiem of a Heavyweight, starring Sean Connery.
Here is the trailer for the 1959 Magical World of Disney television episode of I Captured the King of the Leprechauns, starring Walt Disney, which was a behind the scenes journey of going to Ireland and meeting Darby O'Gill, and King Brian, to get his leprechaun film made.
Podcast: Play in new window | Download
Subscribe: Apple Podcasts | RSS