Welcome back to another exciting episode of Saturday Night Movie Sleepovers! This week Dion Baia and J. Blake are tackling new ground, taking on the erotic genre, specifically the erotic thriller, and what better vehicle to discuss this topic than to cover the legendary Bruce Willis film, Color of Night, from 1994.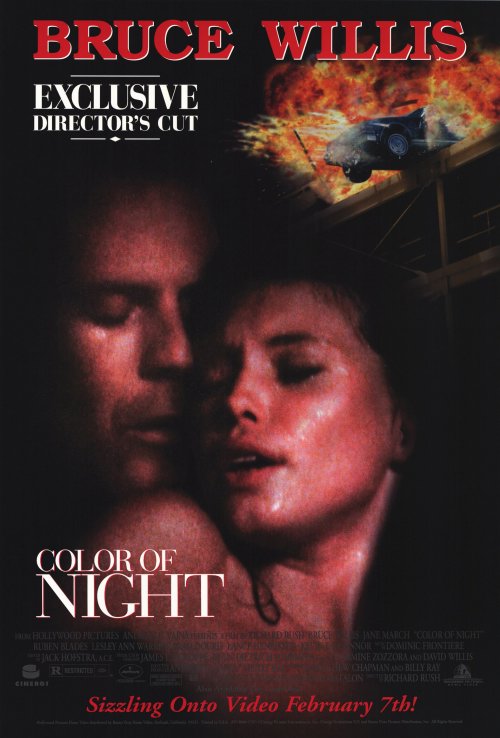 The boys attempt to set the table and lay out the era back when the erotic, the sizzler, and specifically the erotic thriller fed a need for audiences, especially to an adolescent coming to age. In the period of the early 90s, films like Basic Instinct, Sliver and Body of Evidence were big news because of the controversy they generated. Blake and Dion analyze this forgotten genre, and (while some of it may seem tame to today's standards), they try to illustrate an era where nudity and NC-17 films attracted major stars, and why this particular genre was very important to the history of cinema. The fellas discuss the amazing ensemble cast in Color of Night, as well as the controversy it generated, and the similarities to Giallo or even Hitchcock plots. So come down memory lane as Dion and Blake reminiscence about a genre that has virtually disappeared in recent decades, in another informative and fun installment of Saturday Night Movie Sleepovers!
Corrections and Amends:
(When discussing Shirley Temple, the boys referenced the 1947 film she and Cary Grant starred together in, as "Bobby and the Bobby-Soxer ", when they actually meant The Bachelor and Bobby-Soxer.)
(Also, while discussing Color of Night, Dion referred to the killer's car as a Camaro, when it actually was a 1978 Pontiac Firebird.)
(One more: While discussing the actor Steve Railsback in the possible casting in the Lance Henriksen role, Dion (again!) mentioned "Dangerous Games", when he was actually referring to the 1982 horror film Deadly Games.)
Extras!
Check out the original trailer for Color of Night!
Have a look at the original TV spot for Color of Night!
Here's Blake with the man, the myth, the legend himself, Lance Henriksen!
Take a gander a this 1994 interview with Bruce Willis, while promoting Color of Night!
Have a listen to the Golden Globe nominated song, The Color of Night!
Podcast: Play in new window | Download
Subscribe: Apple Podcasts | RSS