This week around Dion Baia and J. Blake delve deep into the video store racks and bring out an absolute cult classic and a very personal favorite of theirs; a film which practically reinvigorated an entire genre in Italy, and lured in legions of soon-to-be horror and zombie fans… we of course are speaking of the Lucio Fulci classic, Zombie, from 1979.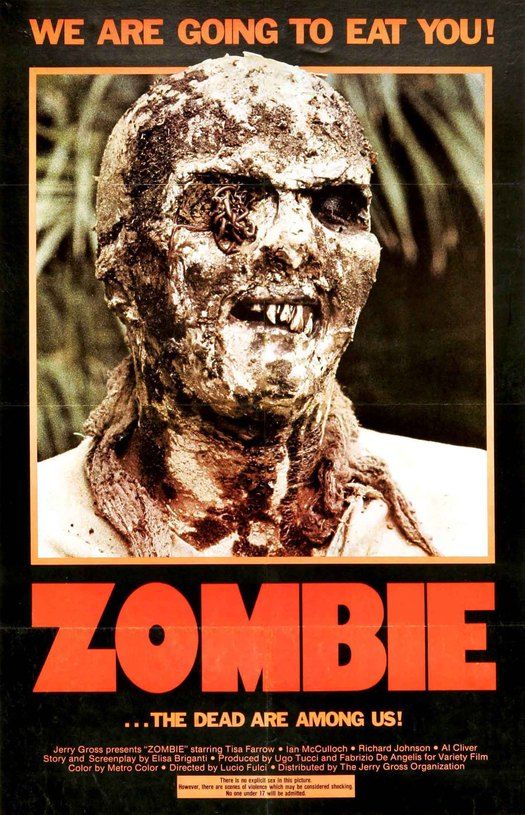 This film is known by many names: Zombie Fresh Eaters, Island of the Living Dead, Zombie Island, Zombie 2: The Dead Walk Among Us, Woodoo, and was officially released in Italy as Zombi 2.
The boys breakdown the state of horror cinema in the 1970's, giving a quick summary of the zombie genre leading up to 1979 and a history of Italian horror up to this point. Why (and how) was this Fulci masterpiece actually released as a sequel to George A Romero's Dawn of the Dead? They discuss their love for Fulci, Italian horror cinema in general, and the fabulous Fabio Frizzi soundtrack. Dion and Blake also explain their shared journey of discovering this movie while in Film School. We're dropping some knowledge in this week's episode so come on down, grab a seat and take a listen to another exciting edition of Saturday Night Movie Sleepovers! And remember, FULCI LIVES!
*And as an added bonus for our listeners this week, we've included our very first audio commentary for a film, so you can watch and follow right along with your friends, Blake and Dion. They may cover some of the same ground that they do in the podcast but this debut commentary lets the fellas stretch their legs, and go step by step and get into the nuts and bolts of the film, while having fun and spontaneously opining about their love of Fulci, horror films, and Italian babes- all in real-time with the movie. So let us know what you think and maybe we'll do more down the road but remember, it's our first attempt, so we're still feeling it out. We hope you enjoy!
Here is the entire 1979 film, courtesy of YouTube!
Take a peek at an alternate poster, which actually is a deleted/or lost scene from the film.
This is the 2010 Windows 7 television commercial that featured the shark/zombie scene.
Blue Underground explains its 2K restoration process to get this film remastered and ready to be available on Blu Ray and DVD.
Check out Bill Lustig's thoughts on Fulci's Zombie!
Here's a peek at the 12″ Zombie Maquette Statue, courtesy of ArtofToys.
The book about Quentin Tarantino that J. Blake refers to in the podcast was the first edition of "King Pulp: The Wild World of Quentin Tarantino" by Paul A. Woods.
Podcast: Play in new window | Download
Subscribe: Apple Podcasts | RSS