Hello and welcome to another all new, exciting edition of Saturday Night Movie Sleepovers! This go around Dion Baia and J. Blake are celebrating the 20th anniversary of a Sci-Fi film that is held in a very high regard by many and conversely disliked by many others- so much so that upon it's release it was hailed as both the best and worst summer blockbuster of all time! Wow, how polarizing! But the fellas are talking a SNMS audience favorite this week with Luc Besson's iconic film The Fifth Element, from 1997.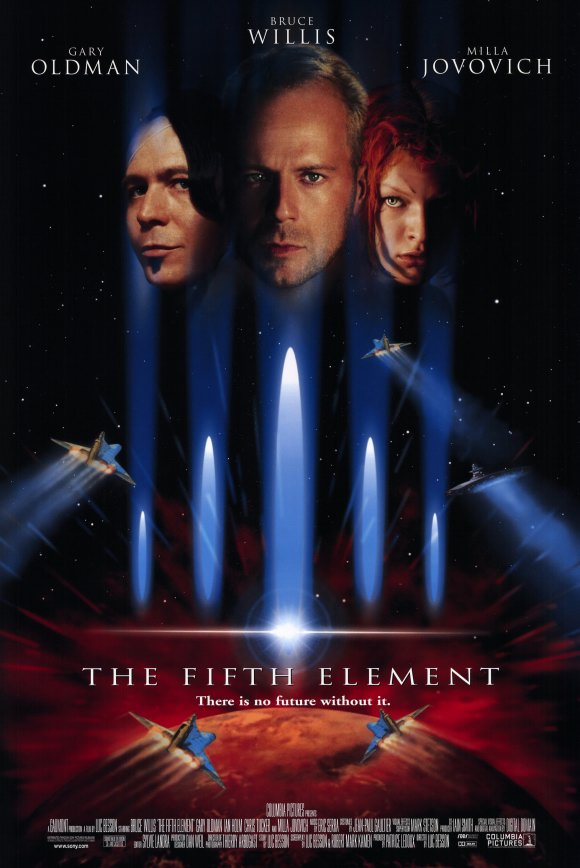 After briefly chatting about epic hair pieces and martial-art movies, Blake and Dion get down to business and reminisce about the summer of 1997 when this film was released and all the other movies they remember that were out that season. The boys both relate their experiences of seeing The Fifth Element in the theater, and discuss director Luc Besson's catalog, particularly his 2008 classic Taken, and their mutual love for the director's film prior to this one, Léon: The Professional. They go into the background in the creation of Fifth Element's story, and the journey Besson went on getting this to the screen. They look at the gorgeous futuristic world that was created by French artists Jean-Claude Mézières and Jean (Moebius) Giraud, and the subsequential lawsuit that was filed against Besson after the film's release. Dion and Blake gush over their mutual love for Bruce Willis and Gary Oldman, and attempt to contrast this movie against other futuristic, Future Noir, Sci-Fi properties that are comparable to this one. They speculate on Chris Tucker's potential real-life influences on his Ruby Rhod character, and also note Besson's reoccuring theme of older men helping younger women (or even young girls as in The Professional ) and how it oddly, in his case, mimics the director's real life to an extent. So does the pairing of CGI, miniature and Practical Effects hold up, and because of their pairing, actually help the longevity? Why is this film so darn polarizing to fans and critics to begin with? And did John Carpenter actually successfully sue Luc Besson? Well grab your Multi Passes, your Zorg Industries ZF-1 Pod Weapons Systems, and make sure you're blocking any incoming calls from Mr. Shadow, because we're all going to the 23rd Century this week and an all new episode of Saturday Night Movie Sleepovers!
Extras!
Here's China Pop Diva Jane Chang doing the impossible, singing live the Diva Dance.
Take a look at Milla Jovovich's screen test for The Fifth Element.
Have a gander at Milla Jovovich's costume tests for Leeloo.
Check out Milla Jovovich talking about being 19 and being cast in The Fifth Element.
Take a look at Chris Tucker talking about playing Ruby Rhod.
Here's some great behind the scenes footage of The Fifth Element.
Have a look at the official 1997 Cannes Press Conference with the cast and crew.
Now take a look at the MTV hosted Cannes Afterparty for The Fifth Element.
Podcast: Play in new window | Download
Subscribe: Apple Podcasts | RSS