Party-hearty! Welcome to another episode of Saturday Night Movie Sleepovers! Your most excellent hosts, J. Blake and Dion Baia are heading back to their early teenage years and celebrating a film that turned 25 on Valentine's Day, and became a vehicle that propelled two character's from a skit on Saturday Night Live into the urban lexicon, becoming a world-wide phenomenon. It was so influential that it introduced several sayings and phrases that have been imprinted in our collective brains for decades now. That's right, it's time to party-on because this week the boys are talking Wayne's World, from 1992.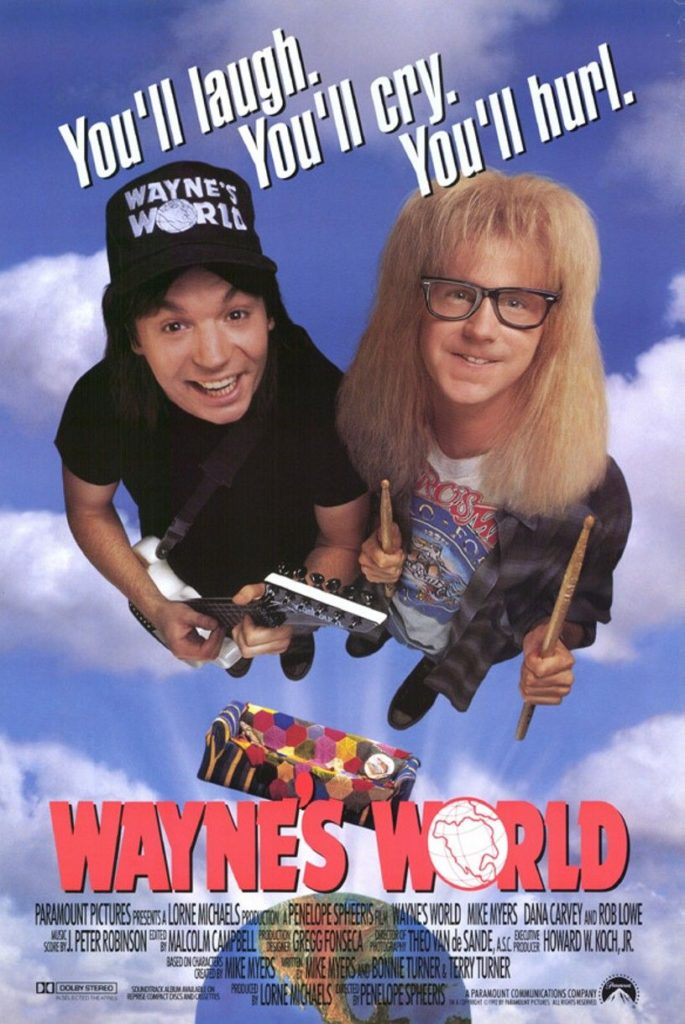 That's right, it's (Saturday) Night, it's 10:30, and it's time to party. Dion and Blake start off my reminiscing about their shared history of making home-movies growing up, specifically genre installments for Blake and sketch comedy influenced by Saturday Night Live, for Dion. They discuss SNL as it was for them growing up, and Dion laments about the huge impact the show had on him, specifically as an adolescent, watching it religiously from 1989 up until the early 2000's. They discuss the memories they had from the show and the several now-famous moments they remember with the cast members of the era. The boys debate the popularity of SNL back in the late 80's and early 90's, and get into a gentleman's disagreement about what demographic this feature film, Wayne's World, was actually trying to target. The fellas go into the history of the Wayne's World skit, and it's origins that predate Saturday Night Live entirely. They also explain the seemingly forgotten Rob Lowe sex tape controversy from the 1989. They may even break news and connect Chris Farley's cameo in this film and his win at the inaugural Borgnine Night in New York City, both of which occurred 25 years ago, in February of 1992. They also chart the rise of this film and examine it's release and serendipitous timing, coming out exactly at the most perfect time it could have, becoming engrained in our collective consciousness. So how was the energy onset; were the rumors true of the difficulty working with comedian Mike Myers? What music group's career did this movie help completely reinvent? What music group did the studio actually want, which Myers threated to leave the film if his wish's weren't followed? And does Myers actually hate this film? Well buckle yourselves in, because we're heading back to 1992 and reliving a visual time capsule of that era, in this most-excellent edition of Saturday Night Movie Sleepovers! Party on!!!
EXTRAS!
Check out the origins of Wayne's World, specifically the original skit(s) that evolved into what we know them as today, from 1987 on It's Only Rock and Roll, called Wayne's Power Minute!
Have a look at the first Wayne's World skit on Saturday Night Live, from 1989!
Take a look at this rare teaser trailer for the original Wayne's World.
Discussed in the podcast, here's a look at the tie-in book called Wayne's World: Extreme Close-up.
Podcast: Play in new window | Download
Subscribe: Apple Podcasts | RSS