Hello again and welcome back to another all new episode of Saturday Night Movie Sleepovers! This week Dion Baia and J. Blake are talking another absolute cult classic film that turns 30 this week. A movie about beach boardwalks, teen angst, and of course vampires, Joel Schumacher's The Lost Boys from 1987.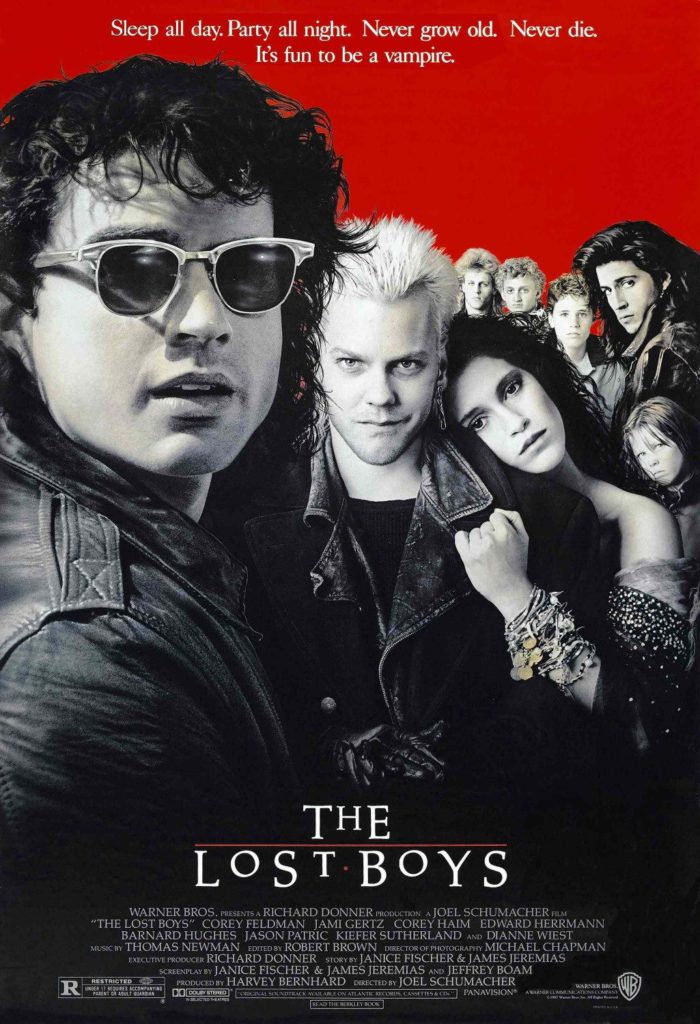 The boys fondly reminisce about the era The Lost Boys came out within, and how the concept of teenage vampires was a relatively new idea for audiences. Blake and Dion discuss the vampire lore and the 'classical' representation these characters had in cinema, and how this film kind of turned that traditional idea on end. They talk about the obvious connections to novelist J.M. Barrie's story Peter Pan, as well as the other cultural influences peppered in the story, such as the reoccurring presence of rock icon Jim Morrison and the symbolism invoked, which goes to the greater themes layered within. They discuss the family dynamics in the story, be it the Emerson family's or the Lost Boys gang themselves. The lads go into the Corey connection, and the relationship between Haim and Feldman that all started with this movie. They compare this film to the novelization, and interject some of the subplots and scenes that were discarded in the final cut of the 1987 movie. And they also chat about the sexual tension between the main characters in the story, and ponder the question: who is really attracted to who here? So, how monumental was The Lost Boys' soundtrack when it came out? Did director Joel Schumacher maybe put himself a little bit into young Corey Haim's character? What's Blake's Billy Wirth story? How about Dion's Jason Patric encounter? Well it's about time that you sharpen those wooden stakes, gather as much Holy Water as you can find, and above all, don't invite any strangers into your house because an all new edition of Saturday Night Movie Sleepovers is coming your way!
(* The two stories referred to in the podcast that predate Bram Stoker's 1897 Dracula, were the 1819 short story entitled The Vampyre by John William Polidori, and the 1872 lesbian vampire novella Carmilla, by Joseph Sheridan Le Fanu– both in public domain and available online free to read.
Extras:
Check out the original trailer for The Lost Boys!
Watch the deleted scenes, here!
And check out more deleted scenes from the film, here!
Take a look at Corey Haim and Feldman talking about The Lost Boys!
Have a look at the 2004 The Lost Boys 17 year old Retrospective!
Podcast: Play in new window | Download
Subscribe: Apple Podcasts | RSS