Welcome back to week 4 of Saturday Night Movie Sleepovers' October Halloween Horror Movie Extravaganza! To bring to a close SNMS' month of horror, J. Blake and Dion Baia decided to take on a fan favorite, particularly a cult classic for the ladies. The fellas are getting on their brooms and heading to Salem, Massachusetts, as they cover Walt Disney's Hocus Pocus, from 1993.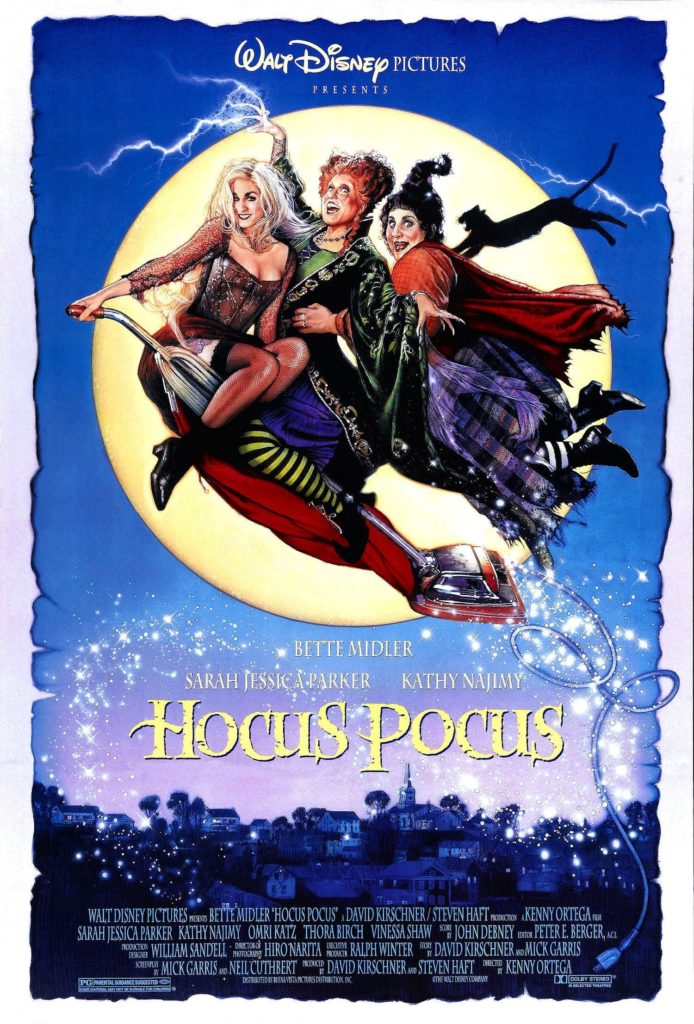 The boys get right into it by setting up the backstory of the film, and how it was originally pitched as a Disney television movie, then languished in developmental hell for ten years until it was brought in front of Bette Midler. They debate the theory of how some seasonal-themed films become cult classics, holiday staples because of repeated viewings on television and cable. They analyze the elements within the film that showcase another example of Disney tip-toeing into somewhat dark, erotic material- cleverly disguised inside a light-hearted fairytale. Dion and Blake unpack the historical context of this story, briefly summarizing about how Wiccan and Pagan religious ideologies were deemed to be akin to being in league with the devil, and the horrible witch-hunts that swept through Salem, Massachusetts, at the end of the 15th Century. They also compare the tone of Hocus Pocus to other properties at the time, like Eerie, Indiana and Are You Afraid of the Dark?. So, what is the fan speculation behind this story: going to the How and the Why of the Sanderson Sisters becoming witches? Was Leonardo DiCarprio once considered to star in this movie? Playing their own What if Game, could this film have been envisioned as a Tim Burton/Danny Elfman vehicle at the time? And are the fans finally going to see a sequel to this film, and why would Disney actually not be interested in making a sequel/reboot to this beloved property? Well, you better make sure no virgins are trespassing and lighting any candles, hide your children, and actually listen to that black cat trying to talk to you… because the boys are back with the Halloween-specific episode of SNMS' October Halloween Horror Movie Extravaganza!
EXTRAS!
Check out this original trailer for Hocus Pocus, that contains shots from scenes that weren't included in the final cut of the film!
Here's a fantastic episode of the 1990's Discovery Channel Show Movie Magic, devoted to the impressive EFX wire-work that is showcased in Hocus Pocus, courtesy of YouTube!
Take a listen to the John Debney score to the film!
This is the Bette Midler, Disney MGM Studio Commercial short entitled The Lottery, that was talked about in the podcast from the early 1990s, courtesy of some guy on YouTube, so enjoy!
Here is the 1973 book mentioned in the podcast that digs excessively into among other things, the history of Wiccan, Pagan and Witchcraft religions, entitled The Devil and all his Works, by Dennis Wheatley.
Also referenced in the podcast, for more information on Ed Gein, click here; for H. H. Holmes' and his house of horrors click here; and for information on the 1913 Villisca Axe Murders, click here.
And lastly but far from least, for more info on the 1977 John Carpenter's Halloween Michael Myers House that is now a museum, click here.
Podcast: Play in new window | Download
Subscribe: Apple Podcasts | RSS