Welcome back to another exciting edition of Saturday Night Movie Sleepovers. This week J. Blake and Dion Baia are going "way down the alley", to discuss a monumental film that marked a seminal event in cinema history, something that to this day has never been replicated. What is it you might ask? Well have a listen as the boys talk the film noir/live-action/animated mash-up, Who Framed Roger Rabbit, from 1988!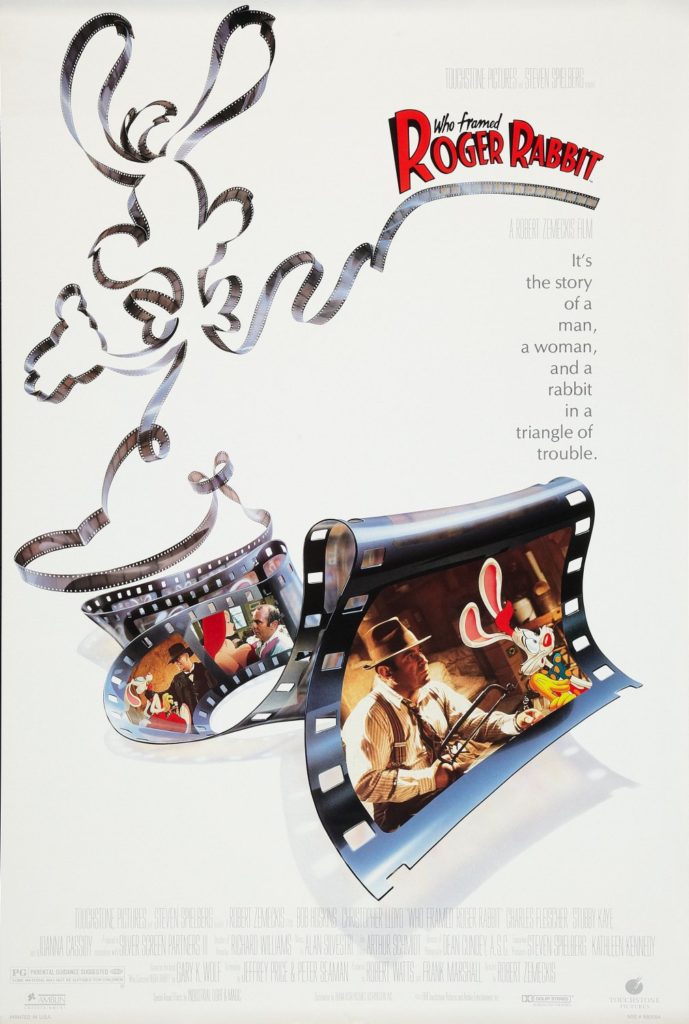 Dion and Blake jump right into things, reminiscing about the late 80s, discussing the time period this film was released within. Another movie highlighting the glory of the pre-CGI era, the fellas analyze the various practical methods used to bring this amazing story to the silver screen, from the hand-drawn cell animation, to the practical SFX, to the sheen ILM applied to help make the finished product look that much more 'real'. The boys go through the 1981 Gary Wolf book the film is based on Who Censored Roger Rabbit? and the similarities and major differences in plot and tone. Blake and Dion attempt to add perspective and really underscore how amazing this project was to be able to bring together various characters from Warner Bros., Disney and Tex Avery's troupe at MGM– a colossal feat that still 29 years on, hasn't again been achieved. They also discuss meeting pioneering animation Ink and Painter Martha Sigall, who personally knew icons like Chuck Jones and Mel Blanc, as well as meeting Hanna Barbara legend Bob Singer. So how dark is this film really, even though it was billed as a children's picture? And is the book actually much darker? What is the real-life plot point in Roger Rabbit that audiences forget actually happened, and how is it somehow related to Robert Towne's Chinatown series? And what is Dion's Bob Hoskins story- did he actually carry him around on his back, Yoda-style for a day? Well get ready and make sure you take your heart medicine, because the lads are taking you on a trip into Toontown in this all new episode of Saturday Night Movie Sleepovers!
*Dean Cundey actually directed Honey We Shrunk Ourselves, not the original Honey I Shrunk the Kids.
EXTRAS:
PLEASE check out our EXCLUSIVE interview with the late legendary Ink and Painter Martha Sigall about her career in the animation business, in a time when the industry was still in it's infancy.
PLEASE check out our EXCLUSIVE interview with Hanna Barbara legend Bob Singer, as he reminisces about his work at the animation studios, and discusses the iconic characters he helped create.
Here is Dion with the amazing Bob Hoskins in 2005, when the former carried the latter on his back for a day while undergoing his Jedi training.
Have a look at this great 1988 behind-the-scenes TV special, Roger Rabbit and the Secrets of Toontown, hosted by Joanna Cassidy.
Take a look at this rare deleted scene, entitled the "Pighead Sequence".
Check out the three rare Roger Rabbit post-film shorts: Tummy Trouble, from 1989; Roller Coaster Rabbit from 1990; and from 1993,Trail Mix-Up!
Podcast: Play in new window | Download
Subscribe: Apple Podcasts | RSS